We all love a five-star review.
Whether it comes on Google, TripAdvisor, True Local or elsewhere, a good review can do wonders for your business.
Reviews are important because people take them very seriously.
Research shows that 91 percent of people regularly check online reviews and 84 percent of people trust online reviews as much as a personal recommendation.
So, if you're lucky enough to have good reviews already, great work! They're probably already helping you to win new business.
But how can we make those reviews work harder for us?
The power of reviews: A case study
In 2018, Vice produced a brilliant documentary which demonstrated the power of online reviews.
They "set up" a new restaurant in London called "The Shed at Dulwich".
The Shed was nothing more than a garden in South London. The restaurant didn't exist.
Nevertheless, The Shed was given it's own website and a TripAdvisor profile, which the owner and Vice journalist Oobah Butler promptly flooded with fake reviews.
All of a sudden, the restaurateur's phone was ringing off the hook. People wanted to book dinner, PR agencies wanted to help market the business, food bloggers wanted to be the first to get in.
All the while, Butler and his pals are constantly feeding TripAdvisor with fake reviews.
And would you believe it? Without ever opening its doors, serving a single dish or even having a table to serve a dish on, The Shed is the #1 restaurant in London, according to TripAdvisor.
So, naturally, Butler did the only sensible thing.
He opened the restaurant for one night only.
Bookings were accepted, guests were led into Butler's back yard and fed instant meals heated up in a microwave or oven (with some extra garnishing) and, what do you know? People absolutely love it.
They genuinely believe they're eating gourmet food at London's best, most exclusive restaurant.
Watch the full documentary here:
That's what is possible with FAKE reviews.
Now, the point of this blog isn't to encouarge you to go out and write a heap of fake reviews about your business.
You can try it if you like, but be prepared to back up what's on your reviews. If you don't meet their expectations, they're likely to leave a negative review. 
When customers are unhappy, they are highly likely to go out of their way to leave a negative review. Unfortunately, satisfied customers are far less likely to leave a positive review (more on this later).
The value of a good review
If you're in a position where you do have five-star reviews, this is a great start.
Reviews stay online for as long as the person who left it leaves it there – which is normally a long time.
Here's a couple of five-star reviews I've given in 2019.
This one was left after dining in a lovely restaurant in Santa Monica Los Angeles called Tars and Roses.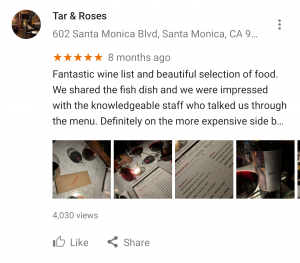 It's been viewed over 4,000 times. As you can see, if people leave photos with their reviews, they will get a lot more views very quickly.
This review was given to my accountants at Rubiix Business Accountants for their stellar work in helping me set up Content Hype.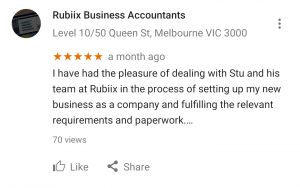 No photos, but it's already been viewed by 70 people – a number which is only going to grow the more people search for that business or one like it in the Melbourne CBD area.
Not a bad result for just being good at what you do!
If you know you've got a lot of satisfied customers, but you're not seeing that come back to you in the form of reviews, get in touch with Content Hype to discuss a communication strategy to get more good reviews.
Turning good reviews into powerful content marketing pieces
A few weeks ago we shared three easy questions you can ask yourself to find your next piece of content marketing.
Good reviews are another great source of ideas.
We know that good reviews are a great thing for business, but what if we could take that five-star review and turn it into an epic piece of content that resonates with prospective customers and seamlessly demonstrates your value proposition?
Reviews are usually viewed by those actively searching for your services, be it on Google or another platform, but how can you get those reviews in front of even more people?
You can take your good reviews and turn them into powerful case studies and stories that can form part of your content marketing strategies.
Get in touch with the person who left the review and ask them if they would be interested in telling you more about their experience for the purpose of a story – be it a written case study, a blog post, an appearance on your next podcast or as part of a video you're producing.
Here's an example of a long-form case study I helped write and produce in my previous employment with Strata Plan on the back of a positive customer experience and result.
Read the full case study HERE.
That one good review can be turned into so many different pieces of content and shared accordingly and because it's genuine, it's going to resonate much better with your target audience.
Why?
Because if done well, your case study is going to demonstrate the issues your client or customer was facing and the solution you and your business was able to provide.
Your intended audience is more than likely facing the exact same problems and needs the solution you offer.
Your happy customer is more than likely going to share their story (which is also your story) with their own networks and audience because apart from already having left you a review, they've actively participated in helping you tell a great story.
You might learn more about your target audience and the messages you need to be conveying as well!
If you have good reviews, and want to see how you can make those reviews work harder for your business and provide you with compelling content opportunities, reach out today.
A quick note on bad reviews
As mentioned above, the research unfortunately shows that consumers are more likely to leave a negative review if they have a bad experience than they are to leave a positive review after a good one.
Bad reviews happen, but it's important to have an action plan should you ever get one.
The good news is that 89 percent of consumers read business' responses to reviews.
So, first and foremost, you NEED to respond to any bad reviews you've received and you need to do it quickly.
Assess if the situation is rectifiable. If you've genuinely made a mistake or an error and recognise the customer, reach out via email or pick up the phone and discuss the complaint.
Try and rectify the situation and ask that they consider remove or edit their review accordingly.
If you're having some trouble with negative reviews you believe are unfair, get in touch with us today for a quick chat about your reviews and strategies to improve your ratings.
Get in touch today!